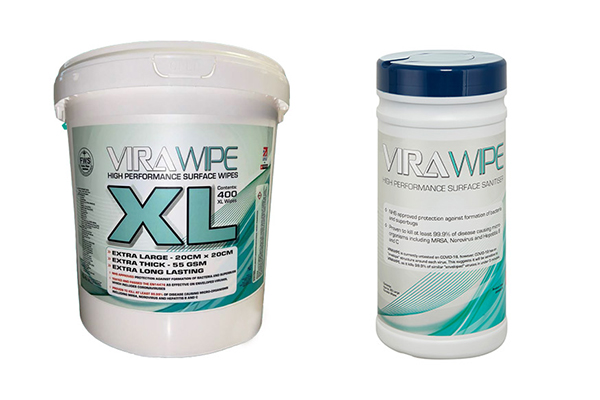 Sanitise surfaces with VIRAWIPE High Performance Wipes
VIRAWIPE sanitising and disinfectant wipes will help to maintain good workplace hygiene by disinfecting contaminated surfaces, equipment and tooling as well as reducing the risk of cross-contamination of sterile areas.
Sanitation wipes can kill 99.999% of disease-causing bacteria in five minutes plus, eliminate germs, superbugs and other microorganisms, keeping employees and visitors safe and helping to reduce the spread of illnesses and diseases. VIRAWIPE wipes also offer protection against coronaviruses as these kill a variety of coronaviruses and other enveloped viruses.
VIRAWIPE surface sanitising wipes can be used in a variety of environments, including educational institutions, such as schools, colleges and universities, healthcare environments, such as hospitals and care homes, public transport, including trains, buses, taxis and aeroplanes, and many other workplace environments.
These disinfectant wipes have been tested and certified to meet the applicable BS EN standards, including EN 1276 (bacteria), EN 14476 (viruses) and EN 1650 (funghi). The EN 1276 standard determines the antimicrobial efficiency of disinfectant products to establish whether disinfectant products have bactericidal activity. The EN 14476 standard virucidal test method examines surface disinfection and the EN 1650 standard evaluates fungicidal activity in disinfectants.
At Aviation Spares & Repairs, we supply a variety of VIRAWIPE surface wipes, including virawipe xl surface wipes in tubs of 400 wipes, tub of 80 virawipe surface sanitiser wipes, bucket of 225 virawipe surface wipes and covid-19 cleaning kits which are inclusive of virawipe sanitising wipes, viraspray surface sanitiser and other sanitising products.

Personal hygiene and workplace hygiene can be further enhanced with our selection of personal hygiene products. This includes travel-size hand sanitizer, Gojo foam hand soap, hand sanitiser dispensing station with 5l of sanitiser, antibacterial hand and surface wipes and Purell antimicrobial foam handwash.