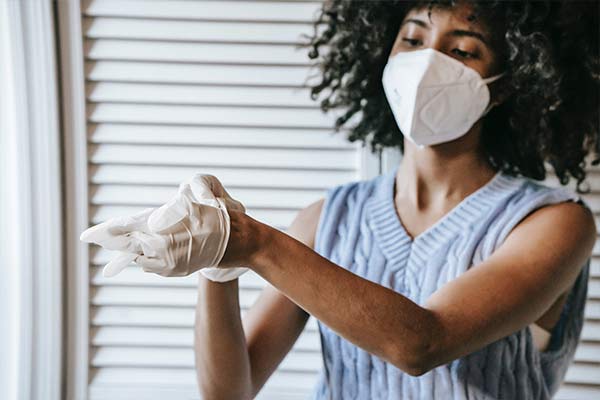 What should I be looking for when buying disposable gloves?
When buying disposable gloves, there are many factors to consider, including: what kind of chemicals you need to handle, risks of cuts or punctures, level of dexterity and grip required, type of contact, sizes and latex allergies.
Latex, nitrile, and vinyl are just a few of the glove materials available, and they each vary in thickness and dexterity. Powdered gloves are easy to put on and are sweat absorbing, but as they can cause allergic reactions, they are advised against being used in clinical settings.
When searching for disposable gloves, it's good to understand glove standards, which outline certain requirements for different types of gloves. These standards are especially important to note when acquiring disposable gloves for medical purposes, as they need to successfully shield the wearer's hands from medical and healthcare-related risks.
The glove requirements set by the Health and Safety Executive is a set of rules that protective gloves must meet. The glove must: be appropriate for the risks and conditions where it's used; take into account the ergonomic requirements and state of health of the person wearing it; fit the wearer correctly (after adjustments, if necessary) and either prevent or control the risk involved without increasing the overall risk.
The EN 420, EN 374, and EN 455 are the main standards to check for when purchasing disposable gloves. We've created a guide to help you better understand the most common requirements.
EN 374
The EN 374 standard is designed for single-use medical gloves and informs the wearer about the types of chemicals the gloves can handle and for how long they can be exposed to said chemicals.
Gloves that are compliant with the EN 374 include Tegera 85801 nitrile gloves (also compliant with EN 420) and Unicare 1.5 AQL Natural Latex Gloves  (also compliant with EN 455). 
Gloves are subjected to extensive chemical testing under EN 374, to assess their resistance to 18 distinct chemicals, as well as assessing breakthrough time, permeability, degradation, and other factors. This standard is broken down into the following sections:
EN 374 – 1: Protective Gloves Against Chemicals and Micro-Organisms
EN 374 – 2: Determination to Resistance to Penetration
EN 374 – 3: Determination of Resistance to Permeation by Chemicals (replaced by EN 16523)
EN 374 – 4: Determination of Resistance to Degradation by Chemicals
EN 374 – 5: Terminology and Performance Requirements for Micro-Organism Risks
Gloves that are tested to the EN 374 standard will also display Type A, B or C. These tell the wearer how long the gloves will remain chemically resistant.
Type A – Resistance of at least 30 minutes with a minimum of six test chemicals.
Type B – Resistance of at least 30 minutes with a minimum of three test chemicals.
Type C – Resistance of at least 10 minutes with a minimum of one test chemical.
EN 420
Innocuousness, anti-static and water vapour, packaging and instructions, and symbols/information on the glove are all covered under the EN 420 standard, however, it will be replaced by the EN ISO 21420. This new standard will ensure that the materials used by protective glove manufacturers do not adversely affect the health or safety of the wearer (innocuousness).
Tegera 84101 nitrile gloves, Tegera 843 nitrile gloves and Tegera 825A vinyl gloves comply with both EN 420 and EN 374 standards.
The new ISO 21420 reduces the amount of DMDa (dimethylformamide) in polyurethane-coated (PU) gloves while also bringing it closer to REACh's hazardous chemicals or compounds of very high concern laws (Registration, Evaluation, Authorisation and Restriction of Chemicals).
This new standard also includes changes to glove marking. Manufacturer's name and postal address, size designation, glove identification, date of production (month and year), appropriate pictograms and associated degrees of protection, and CE marking are now required on each protective glove. This information will be applied to the package if glove marking is not possible.
EN 455
EN 455 standard is divided into four sections that cover freedom from holes, physical properties, biological evaluation and shelf life. This standard covers the essential requirements detailed in the Medical Device Directive 93/42/EEC.
EN 455-1 – Requirements and testing for freedom from holes
Gloves are filled with water and then inspected for pinholes and leaks. This experiment will determine if the gloves are an efficient barrier against microbes. A quality level of 1.5 is required for examination, surgical, and procedural gloves.
EN 455-2 – Requirements and testing for physical properties
Gloves must fulfil specific physical requirements and glove measurements, which vary depending on the glove material (nitrile, latex, vinyl or synthetic). Latex and nitrile gloves must endure a force of 6 Newtons without breaking, whereas synthetic and vinyl gloves must endure 3.6 Newtons without breaking.
Clear vinyl powder free gloves have been tested and are compliant with the EN 374, EN 420 and EN 455 standards.
EN 455-3 – Requirements and testing for biological evaluation
This section examines gloves for endotoxins, chemical residues, powder, and latex proteins, as well as other potentially harmful elements that might harm the wearer or the patient. These items may induce an allergic reaction right away or may cause symptoms to appear gradually.
EN 455-4 – Requirements and testing for shelf-life determination
This section tests gloves to determine how long they are fit for use. This ensures that gloves are of the same quality at the start and end of their shelf life.
At Dawnthrive Ltd, we have a comprehensive range of safety work gloves for sale besides disposable gloves, including anti-static gloves, chemical protection gloves, heat resistant gloves, nitrile dripped gloves and much more.
We hope that this disposable glove standard guide has been helpful. For further assistance, feel free to contact our team at info@dawnthrive.com or on 01794 830352.