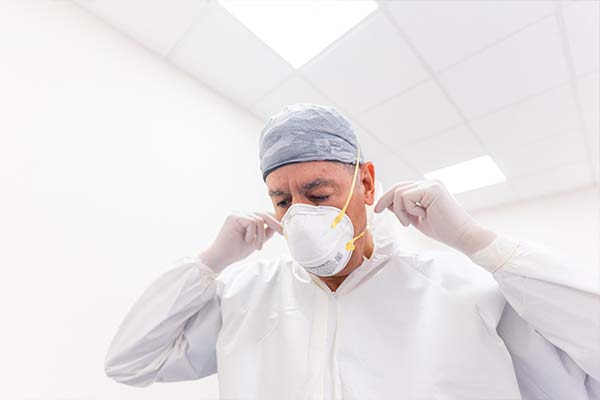 The difference between medical grade and non-medical grade PPE
In the workplace, employee safety is the highest priority, so personal protective equipment (PPE) should be used to shield employees from workplace hazards. Face protection, body protection, foot protection, and hand protection are frequently used and can be either medical grade or non-medical grade.
Personal protective equipment should be chosen specifically to meet the needs of your company. Consider the following when deciding on the correct PPE for you:
Who is being exposed to the risk? 
What are they being exposed to and how long for?
How much are they being exposed to?
According to The Health and Safety Executive, the above questions will help you evaluate whether medical grade or non-medical grade protective equipment is required.
Do I need medical-grade or non-medical grade PPE?
Medical-grade PPE describes protective equipment that is used in medical environments, such as in hospitals, operating theatres, dentists and clinical settings. The equipment is designed to shield wearers from infections, bacteria, viruses and other airborne diseases.
Non-medical grade PPE is used to protect construction workers, automotive workers, binmen and any others working in a non-medical environment. This equipment protects from chemicals, particulates, falling objects, flames and anything else a worker may encounter in their field. An example of non-medical grade PPE is a welding helmet, used to protect the eyes from the bright lights and sparks. 
At Dawnthrive Ltd, we supply a variety of non-medical grade equipment including hand protection like Tegera 118A heavy-duty gloves and Tegera 12935 chemical resistant gloves and protective footwear like Graninge 2701 leather steel toecap safety shoes and Graninge 7298 nail protective safety ankle boots. 
What's the difference between medical grade and non-medical grade PPE?
Most medical-grade face masks are single-use only, as they are used in clinical settings where there's a risk of contamination. On the other hand, non-medical face masks are often washable and reusable.
Medical grade face masks sold in the UK must be CE certified in accordance with the Personal Protective Equipment (Enforcement) Regulations 2018. There are also testing standards that must be met, like the design and safety requirements set out by the Medical Device Regulations.
Medical grade face masks also have droplet filtration systems, which filter out particles and droplets of bacteria in the air in order to stop the spread of infection. These filtration systems must meet certain standards before being sold.
Categories of Medical Grade PPE
The NHS website divided medical-grade PPE into two categories based on the level of protection necessary: Level 1 PPE and Level 2 PPE.
Level 1 PPE
Single pair of gloves
Disposable plastic apron
Fluid repellent surgical mask
Eye protection if you feel there is a risk of patient coughing, or splash or droplet exposure. Eye protection to be worn if directly caring for patients with confirmed or suspected COVID-19
Level 2 PPE
Single pair of gloves
Long-sleeved fluid repellent gown
FFP3 respirator
Eye protection (visor which can be disposable or reusable)

It is advised that Level 1 PPE is worn when caring for patients who are confirmed or suspected COVID-19 or when caring for any patient where there is a risk of body fluid exposure risk. Level 2 PPE should be worn for all aerosol-generating procedures (AGPs) where the patient is suspected or confirmed to have COVID-19.
Some of our medical-grade protective equipment includes Disposable Type IIR Surgical Face Masks which comply with BS EN 14683:2019, certified face shields, certified BS EN166 safety goggles, Dupont Tychem 6000F Protective Coveralls and Disposable FFP2 Respirator Mask that is CE certified and meets the BS EN 149:2001+A1:2009 that are certified to meet a variety of regulations.   
For further information about non-medical or medical-grade personal protective equipment supplied by Dawnthrive Ltd, don't hesitate to contact our team. We can be reached at info@dawnthrive.com or via phone at 01794 830352.