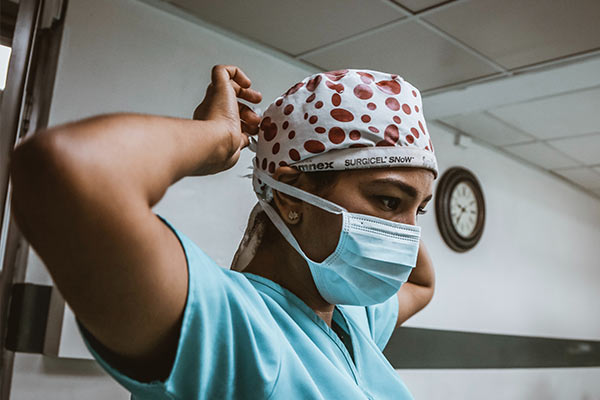 What is the difference between surgical and respirator masks?
Face masks have become increasingly popular over the last few years, but have always been essential personal protective equipment. Surgical masks and respirator masks are two of the most popular types, but they offer different protective properties and are, therefore, suitable for specific applications. When deciding between surgical masks and respirator masks, it is crucial to take into account the employee's work environment as well as the hazards that the person may experience on the job.
Currently, the wearing of masks, combined with social distancing and handwashing, has become a crucial part of our daily lives. While masks prevent airborne transmission, it's still important to wash your hands frequently, with hand sanitiser when there's no access to clean soap and water.
Related: The importance of disposing of face masks properly
Surgical masks
Surgical masks, like the disposable type IIR surgical face masks and disposable 3 ply face masks are single-use, loose-fitting masks, intended to prevent contamination of the working environment, rather than to protect the wearer. They were designed to protect against droplets, but offer minimal protection against airborne particles as they do not effectively filter small particles from the air. Additionally, leakage can occur around the edge of the mask when the user inhales.
Respirator masks offer a much higher level of protection against viruses and aerosols than surgical masks when combined with other preventative safety measures.
Respirator masks
Respirator masks were designed specifically to carry out potentially infectious aerosol-generating procedures. Their filtration systems remove airborne particles from the air, and unlike surgical masks, they provide a very close facial fit. Their strong seals result in minimal leakage around the edges of the respirator when the wearer inhales.
The British Standard BS EN 149:2001 classifies filtering facepiece (FFP) respirators as either FFP1, FFP2, and FFP3, based on the filtering efficiency and level of protection given.
FFP1
FFP1 respirator masks, like the 3M 8710 FFP1 respirator mask, have a low degree of filtering effectiveness and protect against non-hazardous dusts and water or oil-based mists. These offer protection against certain particles in concentrations up to 4 x workplace exposure limit (WEL).
FFP2
FFP2 respirator masks, such as the 3M 8810 FFP2 respirator masks, have filtering efficiencies of over 94%, as well as an assigned protection factor of 10 x WEL for non-toxic, fine mists, fibres and dusts.
FFP3
FFP3 respirator masks, including the Moldex 2555 FFP3 respirator mask have a filter efficiency of over 99%, allowing them to protect their wearers against very fine particles and airborne contaminants.
Other personal protective equipment should be worn as well as face masks, to minimise the risk of workplace hazards. Face protection, such as safety goggles and face shields should be used as well as disposable clothing like disposable gowns, disposable aprons and disposable gloves. 
For further information about our range of protective face masks, feel free to contact our team today. We can be easily reached on 01794 830352 and info@dawnthrive.com.