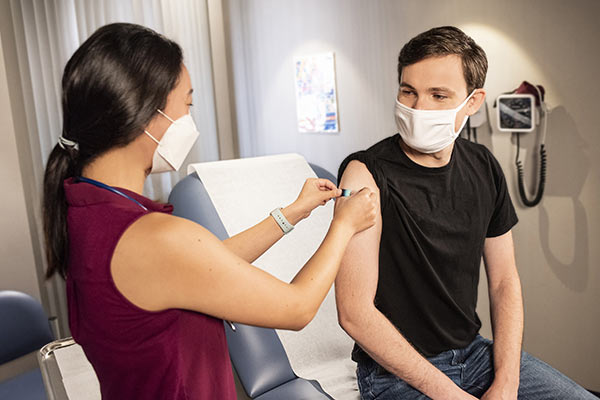 While over 43 million people have received the first dose of the COVID-19 vaccine and over 31 million of those have received the second dose, there are still over 20 million people in the UK who are unvaccinated. While the vaccines are significantly contributing to the reduction in Covid deaths in the UK, they may not prevent you from spreading the virus to others, as no vaccines are 100% effective.
As a result of this, we must continue to use protective equipment in our daily life, and the distribution of adequate PPE to frontline healthcare workers must continue, as well as instructing them on how to use the equipment correctly to reduce exposure to the virus.
According to the World Health Organisation, to keep yourself and others safe from Covid-19, you should maintain a distance, wash your hands and wear a mask as often as you can.
At Dawnthrive Ltd, we supply a vast range of Covid-19 personal protective equipment, including face protection, hand protection, respiratory protective, equipment body protection and more. We have disposable face masks, including disposable 3 ply face masks and disposable type IIR surgical face masks, along with other types of face protection, like safety goggles and face shields.
Related: The importance of disposing of face masks properly.
Disposable arm covers sleeves, disposable overshoes, full body protective coveralls, disposable plastic aprons and disposable plastic gowns are all available on our site, to help shield wearers from splashes, spills, contamination and other dangers.
Disposable gloves help prevent the spread of infection, while chemical protection gloves, heat resistant gloves, Nitrile dipped gloves, winter work gloves and cut resistant gloves can protect the wearer from hazards commonly found in the workplace.
Our most popular disposable gloves include Tegera 84101 nitrile gloves and Unicare natural latex gloves.
Related: What Standards should I be looking for when buying disposable gloves?
As well as our collection of PPE, we offer a range of personal hygiene products including Purell surface sanitising wipes, hand sanitiser and alcohol surface spray, to help keep your work environment is germ-free and safe.
You can find our full range of personal protective equipment on our website. If you have any questions about our products, call us at 01794 830352 or email us at info@dawnthrive.com.